Merkur Double-Edge Safety Razor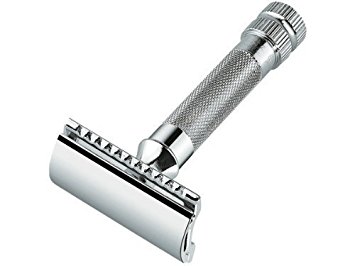 34C Merkur Doube-Edge Razor with Heavy Duty Short Handle
If there is one safety razor that experts recommend to any wet shavers, the Merckur 34C is one of the first that they would recommend.
This is one of the more versatile razors out there that will help you really get a close shave.
The Merkur Heavy Duty Safety Razor is a chrome finished 2-piece razor. The comfortable handle is approximately 3" long and is designed with a thicker grip with non-slip knurling. This shorter length handle makes it quite maneuverable, and provides enough weight that you barely have to apply any pressure during each stroke.
This Merkur razor isn't just for the boys, it's well-suited for women, too! It works great for shaving legs or getting rid of stubble under your arms.
This razor uses all standard double edge blades for a close and comfortable shave and features a 2-piece design.
Made in Solingen Germany
Merkur Safety Razor - $33ea
This is the whole shebang.
Pre-Shave Oil - 2 ounce, unscented
Aftershave - 2 ounce, choice of scents
Merkur 34C Double Edge Safety Razor
Merkur Paltinum Blades - 10 pack
All packed into a re-purposed cigar box. Even the packaging will smell amazing.
Our signature blended Pre-Shave Oil is formulated with a unique combination of botanical ingredients and essential oils that are suitable for all skin types, especially those with sensitive skin. It preps your face by softening hair and moisturizing skin. It also acts as a slick, viscous buffer, protecting skin from the blade. This creates a smooth and safe slide, and helps avoid nicks and burns.
Pre-Shave Oil - $15
2 Ounce Bottle


Base ingredients: Castor Oil, Olive Oil, Calendula infused Jojoba Oil, Broccoli Seed Oil
Check out our ingredient list to see all the details for all the goodies that go into our products, and their benefits. >Ingredient List<
Instructions: To properly apply a pre-shave oil, thoroughly rinse your face with warm water and apply a few drops of oil to the palm of your hand. Rub your palms together and gently massage the oil onto your face. The goal is to get very thin coverage across your entire shaving area. Allow the oil to set on your skin for at least a minute during which time you can wash the remaining oil off your hands. Apply your soap or cream lather to your face and proceed to shave as normal.
Warnings: Store all products in a cool, dark place. Keep out of reach of children. When children are using this product, it should be under adult supervision.For external use only. Keep away from eyes . If you are pregnant, nursing, taking medication, or have a medical condition, consult a health professional prior to use. Some people may have sensitivities to essential oils, test on forearm before use. If irritation occurs, discontinue use. Use only as directed. Items used in the making of this product may contain nuts. Made in a pet friendly home. Consult us about potential cross contamination if you have allergies.
Best if used within 12 months after opening.
It puts the aftershave on its skin... After it shaves.
Aftershave - $10
2 Ounce Bottle


The Classic Double Edge Razor Blades that fit all Merkur and other brand double edge razors. Made of long-lasting "Super Platinum" Stainless Steel each blade is individually paraffin wrapped and contained in a convenient 10 pack dispenser to assure safety, sterility and long shelf life.
MerkurPlatinum Blades - $10
10 Pack